IPHONE 6 CONCEPT
I'm not Fully Gurntee that the content is not fully right....Somewhat is Right
A new

iPhone 6

concept shows what a larger iPhone with iOS 8 may

look like

when we see one in 2014. We only see one size of an iPhone 6, not the small, medium and large options we looked at last week, but this is still an interesting design.
The latest rumors suggest an iPhone 6 release this fall with a larger screen and a Sapphire cover, but the actual design of the iPhone 6 is not known. It is very likely that Apple is planning a

new look

for the device after sticking with the same design for the past two years.
This iPhone 6 concept from ADR Studio shows a familiar iPhone look, but with a tapered design that is similar to the style of a Macbook Air. The iPhone traditionally is the same thickness throughout the device, and this design is a little out of the Apple norm, but it isn't out of the question.
The design of this iPhone 6 concept imagines a iPhone that is thicker at the top with slightly redesigned controls on the side of the device. Like the iPhone 5s, this shows an iPhone 6 in space gray, silver and gold color options. The power button is offset, but closer to the middle, possibly to make one-handed use easier. The bottom is thin with a headphone jack, Lightning port and speaker.
Like any concept, this iPhone 6 spec list includes some thing that is not likely on the new iPhone, a 3D iSight camera. Several

Android devices

tried to kick start 3D cameras in the last several years with little success. It is very likely that Apple will include a new Apple A8 processor that can enable new

features

for iOS 8 and for the camera and LTE is a given. This concept includes TouchID which is an iPhone 6 feature that would not be a surprise.
The iPhone 6 concept also includes a small iOS 8 concept that shows a new lock screen. This brings some of the features of the Today screen in the iOS 7

notification

center to the lock screen so users can see their schedule at a glance.
iPhone 6 rumors suggest that Apple is planning a device with a bigger display and that we could see two models arrive in summer or more likely

in the fall

. Look for iOS 8 news this summer, followed by

a new iPhone

for 2014 in the second half of the year based on Apple's track record and leaks.
_______________________________________
Touchscreen phones know it's you from taps and swipes
Say gud bye to Finger Scanning

Developed by Cheng Bo at the Illinois Institute of Technology and his colleagues, SilentSense does just that. Using the phone's built-in sensors, it records the unique patterns of pressure, duration and fingertip size and position each user exhibits when interacting with their phone or tablet.
Machine learning algorithms then turn this into a signature that identifies the user – and will lock out anyone whose usage patterns do not match.
Different strok

es
To increase the system's accuracy, the smartphone's accelerometer and gyroscope measure how much the screen moves when you are jabbing at it. They can also pick up on your unique gait as you walk while using the screen.
"Different users, dependent on sex and age among other things, will have different habits in interacting," says Bo.
In tests, 100 users were told to use the smartphone's touchscreen as they would normally. SilentSense was able to identify the phone's owner with 99 per cent accuracy after no more than 10 taps. Even with an average of 2.3 touches the system was able to verify the user 98 per cent of the time.
To save on power, the software stops
checking the user's identity
when apps like games are being used. To maintain security, it automatically switches on when more sensitive applications, such as email or SMS, are accessed.
"This is interesting, creative research," says
Kevin Bowyer
, a biometrics researcher at the University of Notre Dame, Indiana. "It could help preserve privacy if the phone could recognise if the owner or a guest was using it and lock guests out of some applications."
____________________________________________________
New iPhone: 5 features Apple watchers are expecting
As with every Apple product launch, there is major online buzz about the company's Sept. 10 announcement, in which the U.S. tech giant is expected to announce details about a new smartphone.
See updated story: Apple unveils new iPhone 5C and 5S
Apple is notoriously stingy with details in the run-up to its product launches, and given its reputation for innovation, the online rumour mill is always very active.
For the past few weeks, the internet has been rife with speculation about what Apple is planning to announce on Tuesday.
Here's a look at some of the rumours.
Can Apple's new iPhone recapture the tech giant's glory?
The iPhone 5S
The main event of the Sept. 10 presentation, tech insiders believe, is the launch of a new iPhone, thought to be called the 5S. It's not expected to be physically different from the iPhone 5, but there are suggestions it has more horsepower (i.e. faster processing).
Fingerprint sensor
Arguably the most hotly anticipated aspect of the new iPhone is a biometric fingerprint scanner, which would be used to confirm the owner's identity. This highly personalized technology could provide added security and make it that much more convenient to use your smartphone for online shopping and banking.
Details of the fingerprint sensor, which are thought to be part of the iPhone's home button, were leaked to the internet by Sonny Dickson, an Australian teen who has gained a reputation for getting advance info on Apple products. Dickson told Reuters his information comes from sources in China who buy Apple prototype parts directly from factory workers who make the products.
Photos of new iPhone leaked – again
The 5C: an entry-level iPhone
One longstanding criticism of Apple has been the retail price of its smartphone, which is significantly more than that of its competitors. Up until now, the company has only produced one version per generation, but that may be about to change. There are strong rumours that alongside the 5S, Apple will be selling a cheaper version, the 5C, which would feature a plastic shell and have the processing guts of the iPhone 5.
iOS 7
Another criticism of the iPhone has been the functionality of its operating system, iOS, which was introduced on the very first iPhone, in 2007. Detractors say that because of its architecture, iOS makes it challenging to use multiple apps at once. (One of the chief selling points of the latest BlackBerry smartphone, the Z10, was the ability to multitask by simply swiping between apps.)
Smartphones by the numbers
A beta version of a new Apple operating system, iOS 7, was sent to various developers earlier this summer. The most notable update seems to be a feature called Control Center, which allows a user to swipe up from the bottom of the screen to quickly access apps such as the camera and calculator or settings such as screen brightness and Airplane Mode.
New colours
The invitation to the Sept. 10 Apple event features brightly coloured circles and the slogan "This should brighten everyone's day," which many tech watchers have taken as confirmation that the next-generation iPhones will be available in something more than the standard black or white.
There are reports that the 5C will come in a variety of neon colours, including yellow, red and green. Various tech sites have reported that Apple is also working on new colours for the 5S, including grey, silver and gold.
__________________________________________________
Samsung Galaxy Note 3, Galaxy Gear to Launch in India on 17 September; To Hit Stores on 25 September
The Indian arm of electronics giant Samsung has reportedly begun sending out invitations for an event next week, hinting that the launch of Galaxy Note 3 in the sub-continent is just a few days away.
Hours after
Sony
rolled out invites for an 18 September event,
Samsung
India
also began to
send out
invites for an event scheduled for 17 September in New Delhi. The event is said to witness the launch of the recently unveiled Galaxy Note 3 phablet as well as the company's first ever wearable device, Galaxy Gear smartwatch.
Both Galaxy Note 3 and Galaxy Gear will hit the Indian retail stores on 25 September.
The new Samsung phablet flaunts a 5.7-inch
full HD
Super AMOLED display and runs on the latest
Android
v4.3 (Jelly Bean) OS with 3GB RAM - enough for any 3D or power-guzzling games to run smoothly. Users can sync the phablet with Galaxy Gear smartwatch as well.
The device houses a 13.0-megapixel primary camera with the ability to record 4K resolutions Ultra HD video (3840px2160p) at 30 fps. It also flaunts a 2.0-megapixel snapper with full HD video recording ability.
In India, Samsung is expected to roll out the 3G enabled Note 3 with the company's in-house built Exynos 5420 Octa-core processor (with quad-core processors-A15 1.9 GHz + A7 1.3 GHz).
Like its ancestors, the latest phablet will be shipped with S Pen stylus. It is said to feature functionalities like
Air Command
, Action Memo, Scrapbook, Screen Write, S Finder, Pen Window
S Note
, Multi Window, new Easy Clip, and Direct Pen Input.
On
the other hand, Galaxy Gear smartwatch ships with a 1.3-inch Super AMOLED touch screen having 320x320p
display resolutions
and flaunts a 1.9-megapixel camera with BSI sensor and auto-focus features capable of recording HD 720p video.
It packs an 800 mAh processor paired with 512MB RAM and 4GB memory backed by Li-Ion battery with 315 mAh.
One of the striking features of the smartwatch is its Safety assistance app. During an emergency, the user just needs to press a power button on Galaxy Gear three times continuously, after which the smartwatch will automatically send his/her geographical location data to a pre-designated set of people through SMS. Another noteworthy feature is the S voice functionality through which the user can answer a call directly on the smartwatch, without having to open it.
Currently, this smartwatch is compatible with Galaxy Note 3 only. After the
Android
v4.3 update, Galaxy S4, Galaxy S3 and Galaxy Note 2 users can sync their device with the smartwatch.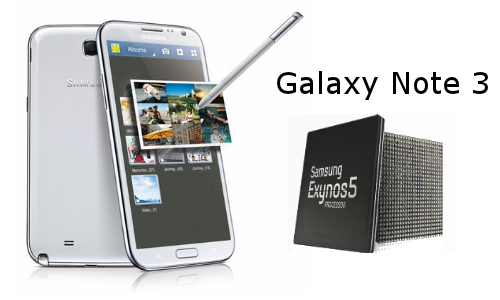 Other features include the Evernote app, which lets the user to snap an image and set a reminder with the picture. Another app, MyFitness Pal, tracks the user's routine
fitness regime
as well as nutrition intake. One can also make
online purchases
plus track transactions via e-Bay app.
Going by e-retailers in US and UK, Galaxy Note 3 may be priced anywhere between ₹45,000 and ₹60,000. Whereas, Galaxy Gear may come with a price-tag of more than ₹25,000. Further depreciation of the Indian rupee may add to the woes of prospective buyers in India.
Key Specifications of Samsung Galaxy Note 3:
Model
Samsung Galaxy Note 3
Display
5.7-inch (5.68-inch) Super AMOLED Full HD Display
OS
Android v4.3 Jelly Bean OS
Processor
4G-LTE variant -2.3GHz Qualcomm Snapdragon 800 quad-core processor and other 3G variant will pack Samsung's in-house built Exynos 5420 Octa-core processor(in India)
RAM
3GB
Storage capacity
32GB and 64GB + microSD card, memory can be further expandable up to 64GB
Camera
Main: 13.0-megapixel camera with BSI sensor, auto-focus, LED flash (High CRI), UHD -4K resolutions (3840x2160p) at 30 fps
Front: 2.0-megapixel camera with BSI sensor, full HD 1080p video recording
Battery
3200 mAh
Add-ons
Wi-Fi 802.11 a/b/g/n (HT80),Bluetooth v4.0 (LE), IR LED (Remote control),MHL v2.0,GPS/GLONASS,NFC
S-pen functionalities
Air Command: Action Memo, Scrapbook, Screen Write, S Finder, Pen Window S Note, Multi Window, new Easy Clip, Direct Pen Input
Dimensions
151.2 x 79.2 x 8.3 mm
Weight
168 g
Price
Expected to be around ₹45,000 to ₹60,000
Key specifications of Samsung Galaxy Gear:
Model
Samsung Galaxy Gear (SM-V700)
Display
1.3-inch Super AMOLED touch screen with 320x320p resolutions
Key Apps
Safety assistance : in case on emergency, user just have to press power button three times continuously, and smartwatch will automatically sends users location data to pre designated set of people through SMS, Evernote watch app allows user to capture image and set as remainder, e-Bay app(lets user to complete all transaction in real time), MyFitness Pal tracks users' nutrition and exercise routines
Processor
800 MHz processor
RAM
512MB
Storage
4GB

internal

memory
Camera
1.9-megapixel camera with BSI Sensor with auto-focus and sound & shot feature. HD 720p video recording feature
Battery
Li-Ion battery with 315 mAh
Add-ons
Bluetooth v4.0 with BLE, 2 x microphones and 1 x speaker
Colours
Jet Black, Mocha Gray, Wild Orange, Oatmeal Beige, Rose Gold, and Lime Green.
Dimensions
56.11 x 36.8 x 11.1 mm
Weight
73.8 g
Price
£299(in UK), approximately ₹30,000 in terms of Indian denomination
________________________________________________
The Samsung Galaxy S4
is a nice handset. As soon as they saw it they liked it, after owning the Samsung Galaxy S3 they were at home with the new device and they say that you may feel the same way. They took a deeper look into the handset and the more they saw the more they liked it.
Of course while the Samsung Galaxy S4 is nice it isn't what you would call mind-blowing. This is because it is very much the same design as the other devices in the range. On saying this there are many things that do go together to make the device an excellent one.
When it comes to hard to hardware i had the Samsung Galaxy S4 in my hand for a week and no one noticed i had changed phones. The differences between the Samsung Galaxy S4 and the predecessor are really only known if you research the handset online. You can also see a difference if you hold the two handsets by the side of each other.
The Samsung Galaxy S4 has a display of 5 inches and is 1920 x 1080p with a pixel density of 441. This means that it is the sharpest screen on a Samsung phone. The Super AMOLED display keeps the qualities of the display from the Samsung Galaxy S3; however it does lack a punch.
There are sensors close to the ear piece and there is a camera of 2MP on the front. Along with ambient light sensors there is also one that detects things such as motion and your eyes. Towards the bottom is the touch sensitive menu along with the back buttons and a home button.
To the right of the handset is the power/sleep button, along with volume keys on the left and a microphone and micro-USB on the bottom of the device. There is the typical 3.5mm headphone jack and IR blaster for using the handset as a remote control.
The Samsung Galaxy S4 has a camera of 13MP on the back, which has LED flash. The back of the handset is removable and holds the 2600mAh battery, SIM card and the microSD card slot. This is one of the main reasons that Samsung choose to use plastic instead of glass. Plastic means that the handset is durable, light and it is easy to swap batteries and put an SD card in.
The Samsung Galaxy S4 in the US comes with the Snapdragon 1.9GHz quad core along with 2GB of RAM; around the world it has the Exynos 5 Octa core eight core processor.
Generally cameras on phones are not good enough. There is no exception with the camera of the Samsung Galaxy S4, it is not the best i have seen, however providing you don't want to print large prints, it good. The newer higher resolution camera doesn't give better image quality over the camera on the Samsung Galaxy S3.
I took a look at prints sized 8 x 10 taken on the Samsung Galaxy S4 and they didn't look very sharp. For looking at on the computer and web they are good though. The camera has a dynamic range that is decent and it is fast.
You can edit the photos on the camera or from within the gallery app, changing brightness, saturation, colour and such, along with there being live filters. Here you can add-on such as a vintage look for instance. You don't need to download apps to make your photos stand out and look cool.
Things that make the camera stand out are the shot features. Drama Shot lets you take an action shot and the subject appears in the photo more than once.
Cinema shot means you are able to create cinema-graphs and animated gifs. You can shoot the scene and the camera records for a few seconds. You can then choose the area in the scene that you want to freeze and other areas keep moving. However this is perhaps just a gimmick more than anything else.
The camera is decent, with good dynamic range, sharp images, and good colours plus there are lots of features in the camera to keep you amused for some time to come.